Aug 4, 2020 01:41 PM Central
Cassandra Row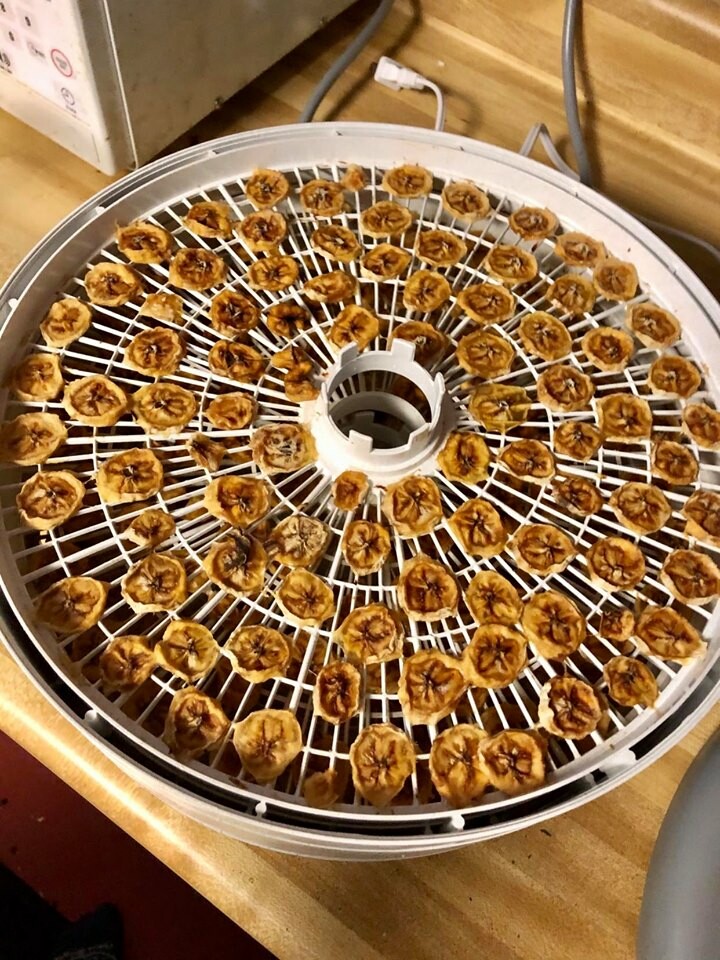 This post may contain affiliate links, which means that I may receive a commission if you make a purchase using these links, with NO additional cost to you.
My kids love fruit! And I love that they love it. But when you are on the go, some fruits just don't travel well. Many of the favorite fruits are also harder to find in the winter. My solution? Dehydrated fruit!
Last winter I was buying some dehydrated fruits to try them out. Thinking that I was getting great healthy snacks that weren't loaded with sugar. I got bananas, pineapple, kiwi, and mango at first. Then I read the labels. Every one of them had a sugar coating and some kind of dye. Lesson learned: read the labels very carefully before buying. I did find a few brands that were actually just the fruit and do get those for the occasional treat. You can buy the pineapple here.
Bananas proved a little harder to find without the extra sugar. So I decided to make my own, since my kids like them so much. The riper the banana the sweater they are. Bananas actually have quite a bit of fructose (fruit sugar) naturally. What I found is the over ripe bananas actually make really good chips, because they are so sweet. Bonus? You can usually buy them half price. They cut up really nicely as long as they aren't bruised or complete mush. If you don't want them to brown you will need to dip them in a citric acid or lemon juice. I personally don't mind, so I sip that step and cut them straight onto the dehydrator. I have found I can get around 3 bananas per tray, depending on how thick I cut them.
How simple is this little treat? Buy overripe bananas, purchase only enough to fill the dehydrator. They tend to go bad very quickly. Cut the bananas thinly onto the dehydrating trays. Once full, turn the dehydrator on 135 degrees and walk away for at least 24 hours. Let the bananas cool once dry and pack into freezer containers. I leave mine a little chewy, so I put them in the freezer for storage. I personally love these reusable containers.
Banana Chips
Over ripe bananas

Citric acid or lemon juice (optional)

Thinly slice bananas onto tray

Turn dehydrator on 135 degrees for 24 hours

Check bananas for dryness

Store in freezer safe containers
Wanting a community to lean into? Join the FREE Courageous + Purposeful Mommas group! This community is for the Mommas, mommas to be, in the midst of raising, and kids grown, looking for tips on building your family up and providing for them through natural methods. Tips include: gardening, bulk buying, caning,/preserving, livestock, homesteading, and home remedies. Your family is precious, and this group is to help you gain the knowledge and tools to keep your family well and not reliant on outside professionals. Remedies and tips are easy and simple for the busy momma, time is precious after all, including pregnancy, birth, young kids, and illness. Trust your Momma gut again! This community offers the resources + community you need to help get started on your journey and prepare for whatever future you envision.
Click here to get the stories straight to your email:
For more on wellness tips click here:
For more on homesteading on your budget click here:
For more simple DIY updates click here: