06/02/2022 12:00 AM Central
Cassandra Row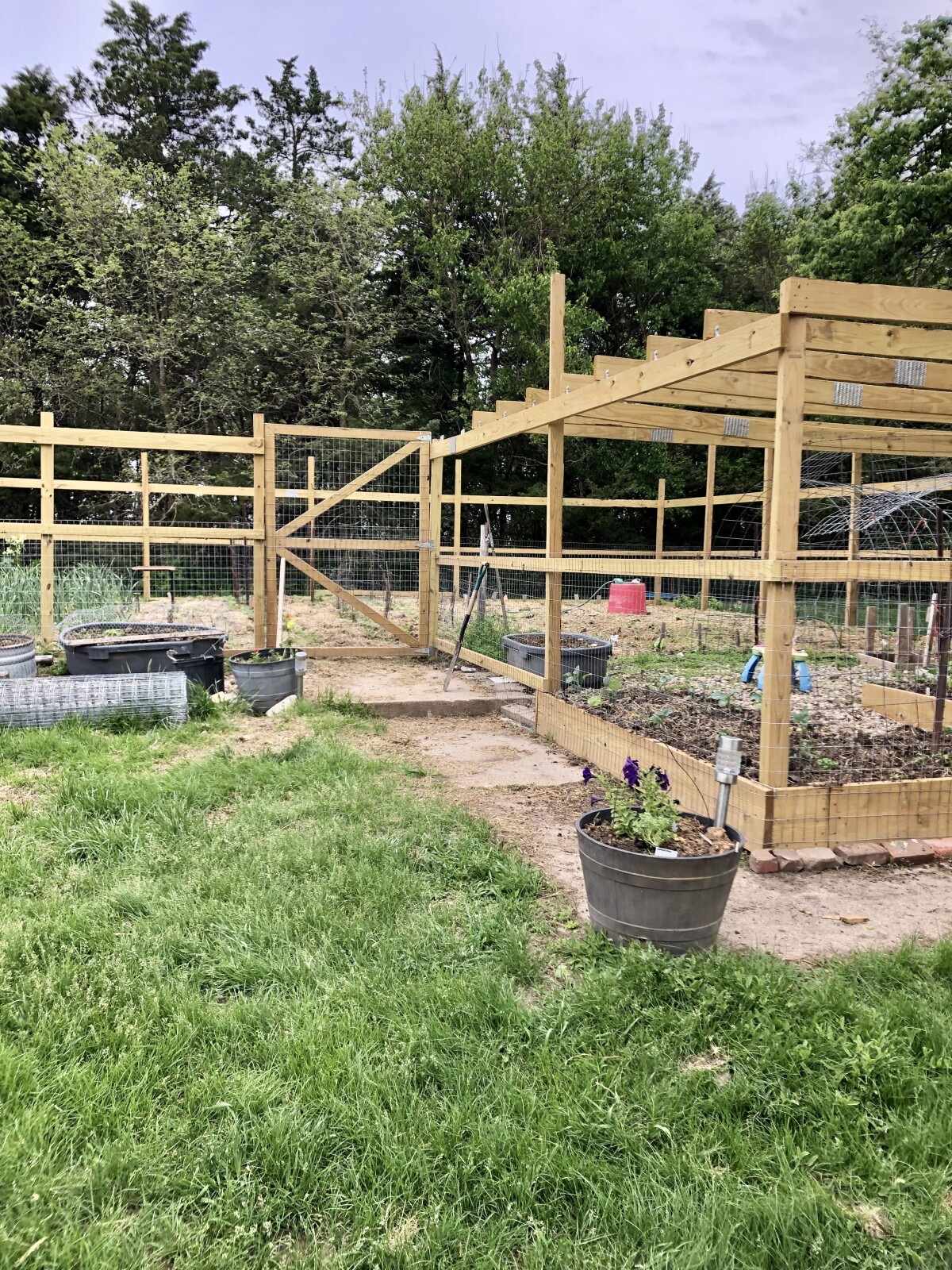 This post may contain
affiliate links
, which means that I may receive a commission if you make a purchase using these links, with NO additional cost to you.
I originally wanted chickens and guineas for the bug control they offered when free ranged. Our property has to many trees to make a simple movable pen for them as well. The first year wasn't a problem. By the time the chicks were old enough to let out of the pen, the plants were established enough they didn't bother them.
The second year though….they tried to destroy everything planted. Now its not really the plants they were interested in, but the fresh dirt and bugs. But in the process, they would dig up and scatter any plant or seed in the area. Before I go into how to chicken proof your garden, lets talk a little on the messages the chickens get when it comes to gardens.
A chicken's brain is quite simple. Dirt = Bugs = want to eat that. Fresh dug dirt = easy to find bugs. Mulch = delicious bugs. As far as fences go, you got to make sure it's a hole free one, because a chicken sees dirt or fresh mulch behind a fence and thinks "she's depriving me of the best food, and I must have it!"
Now that you understand the reasoning behind a chicken's motives, how can you protect your plants, while still free ranging the chickens. A simple hoop of chicken wire over the plants won't work. I tried that, they figured out they could sit on in, smash it down and still eat the greens under the wire. Hail fence or welded wire is stronger, and may work for a bit, but I never tried it.
For raised beds, putting an 18-inch-tall hail fence with 1x1 squares has done the trick. I didn't even have to put a top on it for the seedlings. The raised beds are 12 inches off the ground plus the 18-inch hail fence. Why this keeps them out, I'm not sure as they will jump/fly 4 feet onto a barrel then over the 6-foot nursery pen fence. But it has been up for months, and no one has offered to try and get in the beds. 18 inches is also low enough you can still reach in and garden easily.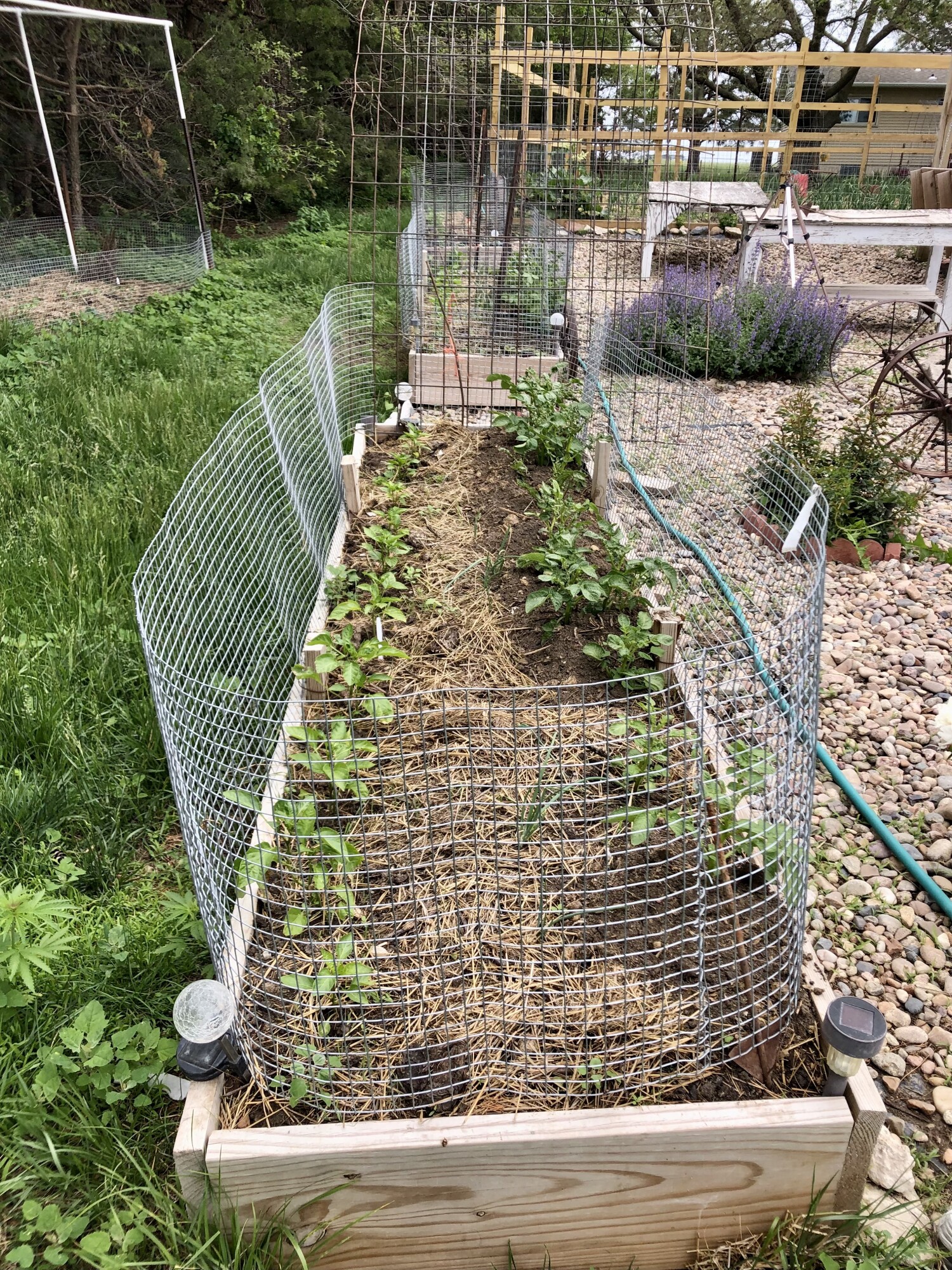 Electric fence is a method that surprised me. It's not fail proof by any means, but does work for smaller areas you are trying to establish before letting everything run through. To electric fence for chicken (works for raccoons and dogs too) place one wire about 2 inches off the ground and the top wire about 12 inches off the ground. The problem with this is as soon as it is dead, they are all over it. And some still get smart and run through really fast.
PVC frames work ok, but I had a really hard time keeping them sturdy, in place, and the netting attached. If looks are something for you, they can be a bit of an eye sore.
The simple solution you would think would be chicken wire around the garden, but alas not so. I had a 4-foot chicken wire fence around my garden for several years before chickens for rabbits, and the chickens saw that as a simple exercise and jumped the fence or found holes in the bottom and slipped under. If you can support it doubled it could work, but the bottom doesn't hold up to lawn mowers and weed eaters.
The best fence for a permanent area, is hail fence. The hail fence is stronger and build to last better than chicken wire. We chose 2x4 openings 4 foot high, doubled, with a top for our garden. Why the top? Because I also run guineas and have seen them easily perch on top of the swings right next to the garden. At this point I'm not taking chances and build a beautiful fortress.
Whatever method you decide to use, make sure you always shut the gate. They find an open gate in about 10 minutes from across the acreage.
As I've grown in my journey as an entrepreneur, mom, gardener, and livestock owner, I struggled to find a planner that met my needs and kept me organized. So I MADE MY OWN. You can take a look at it on the link blow and buy it on amazon below
Don't want the whole calendar part? I got you! I pulled the gardening and animal care pages out and put them in a book all their own.
Wanting a community to lean into? Join the FREE Helping Your Family Homestead for Food group! This community is for the Mommas, looking to stay home and raise their kids, but unsure how to keep everyone fed and make ends meet. I share tips from my journey from the office, to half the income and feeding my family from home, while maintaining good nourishing food. Tips include: gardening, bulk buying, caning,/preserving, livestock, homesteading, and home remedies. Your family is precious and this group is to help you gain the knowledge and tools to keep your family well and not reliant on outside professionals. Remedies and tips are easy and simple for the busy momma, time is precious after all, including pregnancy, birth, young kids, and illness. Trust your Momma gut again! This community offers the resources + community you need to help get started on your journey and prepare for whatever future you envision.
Starting to garden doesn't have to be hard! I gathered all the tips I've learned over my gardening learning curve and made them into a simple course to jump start your gardening your life.
Supporting Your Family Naturally From the Inside Out community!! This community is for the Mommas, looking to Support Your Family from Nature for Wellness. Tips range from nutrition, herbals, detoxing, natural cleaning, and essential oils. Basically all the things I've learned slowly over the past 5+ years if my journey. We have moved off Facebook, so to better serve our community and be able to discuss openly option for providing for your family in the best way possible.

Join the FREE Community
I've had 3 very different pregnancies. After the first traumatic birth, I learned better and how to care for my body naturally and prevent common pregnancy and birth problems before they arise. This quick course will get you the tools you need to have a naturally healthy pregnancy, labor, and delivery. My first pregnancy I had a normal western medicine all the things pregnancy. My second? I flipped to completely natural, no medicine. Bonus: Preventing Preeclampsia Without the Aspirin & Healing from Birth Trauma
Click here to get the stories straight to your email:
For more on wellness tips click here:
For more on homesteading on your budget click here:
For more simple DIY updates click here: