09/28/2023 12:00 AM Central
Cassandra Row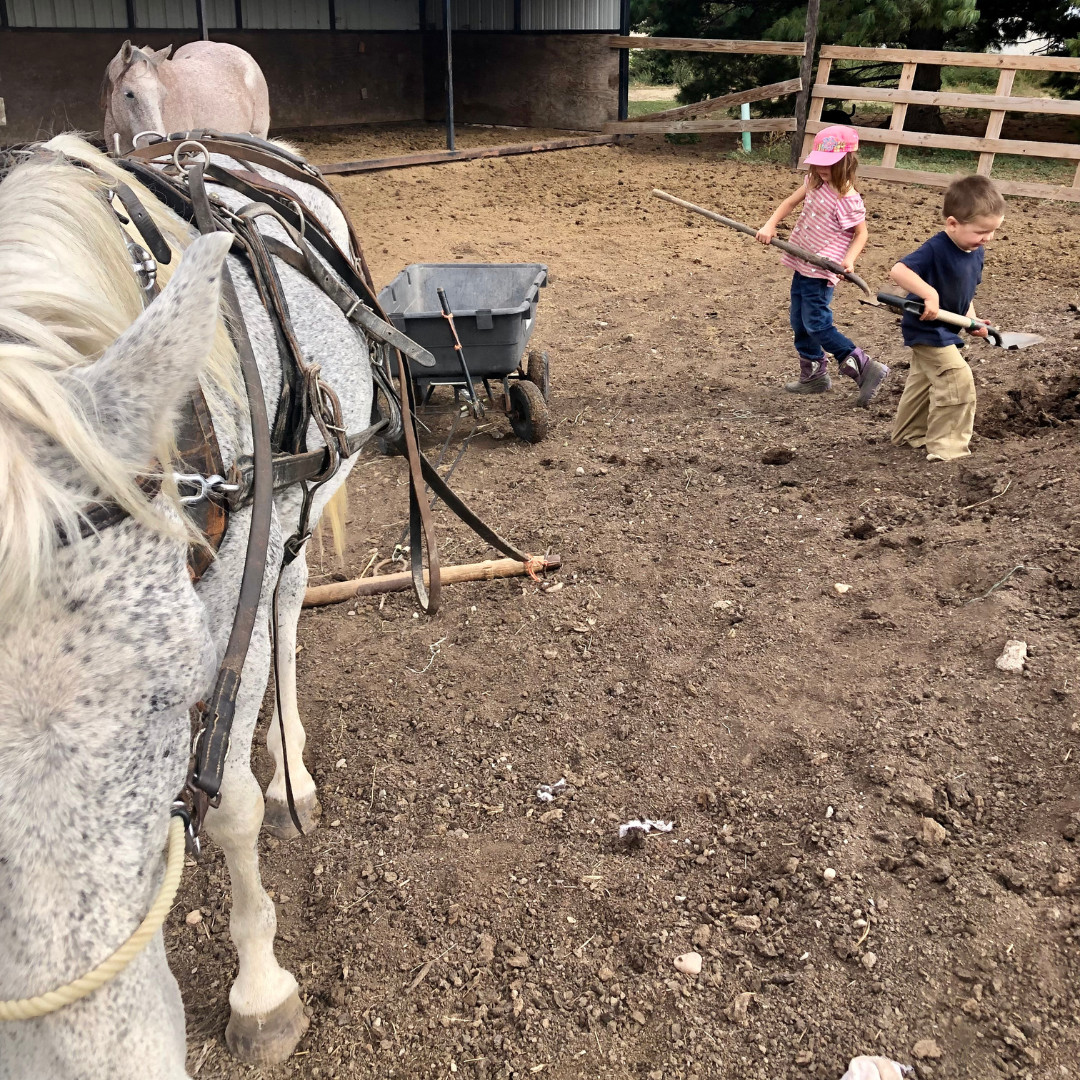 This post may contain
affiliate links
, which means that I may receive a commission if you make a purchase using these links, with NO additional cost to you.
Horses are like the gold animal of the homestead. They complete the picture, but maybe not necessarily contribute much for income. Back before atv's, side-by-sides, and tractors, horses contributed horsepower pulling the equipment. They really did earn their keep.
Now horses are more of a hobby. Yes, you can most definitely still use them for pulling and moving stuff around. I do on occasionally. Horses are still the best 4-wheel drive, all-terrain vehicle.
To accurately evaluate the cost of keeping a horse, you'll have to gather quite a few numbers. For reoccurring costs hay and grain. One-time costs (until you break them beyond use) stock tank and feed pans, wagons, and poop scoops. You'll have the cost of the horse and barn/run in shed too.
Income is a little trickier in today's world. Some ideas include manure for compost, personal exercise coach, therapist, and work. I'll discuss more below.
The biggest one-time costs will be the cost of the barn/shed and the horse. A shed can be a simple lean too or run in shed on skids. We bought ours from Go Bob Pipe and Steel. The other costs are much smaller if you don't plan on buying a atv, skid steer, or tractor (though they are so useful, not completely necessary).
A wagon to haul extra manure away, move feed around I would put on the must list. You'll also need a poop scoop or shovel to clean up. This is mostly to help with fly control. I used to do a quick poop pick up every day in the dry lot. I also had only 2 horses and no kids. As soon as the first kid came into the picture the daily poop scooping went out the door.
You'll need a stock tank for water. A horse will drink 6-10 gallons a day in normal weather. When it's hot, they can easily drink 15 gallons. Horses working every day will drink 10-18 gallons on average per day. Make sure you have a stock tank big enough to accommodate at least one day's worth of water. I usually don't keep more than 2 days' worth in the stock tank. This helps keep the algae from growing too fast.
A hay feeder and grain bucket will be necessary to keep your horse from wasting excess feed. We pitch hay off a round bale and into 2 flipped tires. My dad uses a hay barn feeder. For grain I prefer the pans that sit on the ground. I used to use the hook over bucket feeders but found the horses teeth wore improperly and the handles broke whenever it was cold, and they hit the ground.
The recurring cost of hay and grain are probably the easiest to calculate. Horses will eat 2% of their body weight in hay per day. So, an average 1000-pound horse will eat 20 pounds per day. A small square of grass hay is about 50 pounds. For easy math, ½ a bale per horse per day.
Grain varies greatly in price. You will have to look at what is available around you and the cost per feeding. The bag usually has a recommended feeding amount. Take the cost of the bag divided by the pounds, times the amount per day recommended to be fed. This is if your horse even needs grain.
Now the fun part, income from horses. The biggest one, if you are running other livestock on pastures would be work. Yes, you can use an atv, but a good horse is way more mobile and can often read the cows faster than you on an atv. A good well-trained horse can also replace a mediocre person on an atv. So, value their work at the value of hiring someone or the cost of an atv rent.
Horse manure makes excellent garden fertilizer. Composting it helps to destroy extra grass and weed seeds too. I used to pile the poop all year then spread it in the fall/winter. Now I still pile the poop, but I make a long narrow row and let the chickens turn it for a few months, before pushing it up (with a borrowed skid steer) and making the next row of poop.
The two income points that will be hard to determine are exercise and therapy. Anything with horses will entice you to exercise more. Pitching hay, riding, mucking the barn. All exercise. They also provide the perfect comfort when you just need to talk something out. Horses are excellent at mirroring your emotions too.
Here's a quick summery chart for you to fill in to help you.
Manure for compost/fertilizer















In conclusion, a horse may not make monetary sense. But they are still a fun critter to have on your farm.
As I've grown in my journey as an entrepreneur, mom, gardener, and livestock owner, I struggled to find a planner that met my needs and kept me organized. So, I MADE MY OWN. You can look at it on the link below and buy it on amazon below.
Don't want the whole calendar part? I got you! I pulled the gardening and animal care pages out and put them in a book all their own.
Wanting a community to lean into? Join the

FREE Helping Your Family Homestead for Food

group! This community is for the Mommas, looking to stay home and raise their kids, but

unsure how to keep everyone fed and make ends meet

. I share tips from my journey

from the office to half the income

and feeding my family from home, while maintaining good nourishing food. Tips include gardening, bulk buying, caning/preserving, livestock, homesteading, and home remedies. Your family is precious, and this group is to help you gain the knowledge and tools to keep your family well and not reliant on outside professionals.

Remedies and tips

are easy and simple for the busy momma, time is precious after all, including pregnancy, birth, young kids, and illness. Trust your Momma gut again! This community offers the resources + community you need to help get started on your journey and prepare for whatever future you envision.
Starting to garden doesn't have to be hard! I gathered all the tips I've learned over my gardening learning curve and made them into a simple course to jump start your gardening your life.
Supporting Your Family Naturally from the Inside Out community!! This community is for Mommas, looking to Support Your Family from Nature for Wellness. Tips range from nutrition, herbals, detoxing, natural cleaning, and essential oils. Basically, all the things I've learned slowly over the past 5+ years of my journey. We have moved off Facebook, to better serve our community and be able to discuss openly options for providing for your family in the best way possible.

Join the FREE Community
I've had 3 very different pregnancies. After the first traumatic birth, I learned better and how to care for my body naturally and prevent common pregnancy and birth problems before they arise. This quick course will get you the tools you need to have a naturally healthy pregnancy, labor, and delivery. My first pregnancy I had a normal western medicine all the things pregnancy. My second? I flipped to completely natural, no medicine. Bonus: Preventing Preeclampsia Without the Aspirin & Healing from Birth Trauma
Click here to get the stories straight to your email:
For more on wellness tips click here:
For more on homesteading on your budget click here:
For more simple DIY updates click here: