10/26/2023 12:00 AM Central
Cassandra Row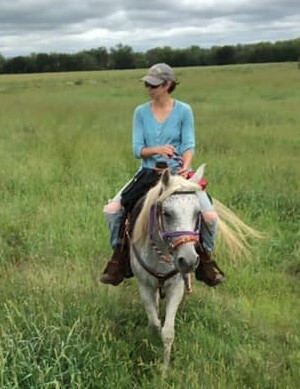 This post may contain
affiliate links
, which means that I may receive a commission if you make a purchase using these links, with NO additional cost to you.
I did not start my journey intending to dive into the homesteading lifestyle. I thought that was 40+ acres of grass to run my animals on. I had 3.4 acres to work with in the middle of crop country. I just wanted to be able to feed my family.
I grew up on the farm and remember my grandma growing a beautiful garden and my mom canning every summer. My mom, try as she may, has never had a green thumb. When I was first married, I didn't even grow a garden for the first couple years. We were both still in college and traveling back and forth between school and his family farm. We had my 2 horses, 1 dog, and jobs. I was working 45 minutes away from home, while he worked on the family farm.
When we moved home in 2015, he grew the first garden. A very rough looking sweetcorn patch. I had some herbs in pots up by the house. The following year, we got a fence up, because of rabbits, and I had a small garden, of tomatoes, cucumbers, and peppers. The things I remember my mom trying to grow.
We actually debated the size of the garden. I wanted it smaller and a bigger fire pit area, he thought it should be bigger. Fun fact, he was right. 2-3 years later, my oldest daughter and I were moving the fire pit brick by brick and making the garden bigger.
In 2019 I was pregnant with my son and looking at the cost of what daycare for 2 would cost. I was also moving into a season where I no longer liked being away from my family so much. I loved my job but seeing my child for 3-4 hours every weekday wasn't cutting it. The only problem was, my job was providing insurance, and groceries. We were using my husband's income for savings and home improvements.
No matter how I ran the numbers, I couldn't continue to work and still buy gas to get there and groceries to feed my family. I ran the numbers with just my husband's income, what insurance options we found, and no daycare, it was going to be tight, but do able. I told my boss I wouldn't be back after I had my son.
Now how to make the grocery bill smaller. Then I remembered my grandma's garden and stories of great grandma's garden. They grew everything! So, I dug in over winter. Looked at what my family was eating vegetable wise and figured out how to grow it. Every year my garden has expanded in space and variety.
I learned how to preserve what I grew and how to cook with whole food ingredients, eliminating all the boxed dinners. 2019 also brought a new frontiers of food allergies and learning to cook without gluten and dairy.
We were fortunate to be able to get ½ a beef every year with my husband's job. 2020 I bought my first chickens. 2021 brought guineas, ducks, and turkeys. 2022 came the geese and honeybees. In 2022 I also learned how to butcher chickens.
I started a poly culture orchard in 2021 as well, to raise some of our own fruit as well. The advantage of the poly culture orchard is once it is established, it takes care of itself with very little maintenance and care.
This year, 2023, we added our milk cow and a small greenhouse to learn in.
Next year, 2024, were planning on adding pigs.
Today, we raise 95% of our own protein and 70% of our own vegetables. The orchard is still maturing but will one day produce 50% of our fruits.
Our family is now 5 strong. I spend maybe $300/month on groceries. Some months we trade for groceries. Yes, it would be nice to spend more on groceries, but we're not able to yet. However, we eat well and won't starve either.
I started with a simple garden but grew as I had the capacity and the need for another food category. I started small and added as I got comfortable with what was already here.
As I've grown in my journey as an entrepreneur, mom, gardener, and livestock owner, I struggled to find a planner that met my needs and kept me organized. So, I MADE MY OWN. You can look at it on the link below and buy it on amazon below.
Don't want the whole calendar part? I got you! I pulled the gardening and animal care pages out and put them in a book all their own.
Wanting a community to lean into? Join the

FREE Helping Your Family Homestead for Food

group! This community is for the Mommas, looking to stay home and raise their kids, but

unsure how to keep everyone fed and make ends meet

. I share tips from my journey

from the office to half the income

and feeding my family from home, while maintaining good nourishing food. Tips include gardening, bulk buying, caning/preserving, livestock, homesteading, and home remedies. Your family is precious, and this group is to help you gain the knowledge and tools to keep your family well and not reliant on outside professionals.

Remedies and tips

are easy and simple for the busy momma, time is precious after all, including pregnancy, birth, young kids, and illness. Trust your Momma gut again! This community offers the resources + community you need to help get started on your journey and prepare for whatever future you envision.
Starting to garden doesn't have to be hard! I gathered all the tips I've learned over my gardening learning curve and made them into a simple course to jump start your gardening your life.
Supporting Your Family Naturally from the Inside Out community!! This community is for Mommas, looking to Support Your Family from Nature for Wellness. Tips range from nutrition, herbals, detoxing, natural cleaning, and essential oils. Basically, all the things I've learned slowly over the past 5+ years of my journey. We have moved off Facebook, to better serve our community and be able to discuss openly options for providing for your family in the best way possible.

Join the FREE Community
I've had 3 very different pregnancies. After the first traumatic birth, I learned better and how to care for my body naturally and prevent common pregnancy and birth problems before they arise. This quick course will get you the tools you need to have a naturally healthy pregnancy, labor, and delivery. My first pregnancy I had a normal western medicine all the things pregnancy. My second? I flipped to completely natural, no medicine. Bonus: Preventing Preeclampsia Without the Aspirin & Healing from Birth Trauma
For more on wellness tips click here:
For more on homesteading on your budget click here: